The term "Herbal Tea" may be a matter of debate as some may find it inappropriate since many pieces of literature considered "Tea" as beverages made from other plant materials (herbal infusions) as well. The more appropriate term could be tisane. (1)
In contrast to the true tea (Camellia Sinensis plant) which is prepared with the cured tea leaves of the tea plant, however, the common herbal tea ingredients are herbs, spices, other plant material, and water. The herbal tea recipes vary with people and area. It can be either served with or without sweeteners.
There are varieties of tea blends are available in the market, some are caffeinated, and some are decaffeinated which have their implication on human health. The list of herbal tea benefits makes it the most preferred beverage as it doesn't contain natural caffeine and is found to be healthy compared with other caffeinated beverages. (1)
Due to the spread of the infusion materials, herbal tea can appear in varieties of taste and flavor and can be a very healthy alternative to other caffeinated drinks. (2)
Here is a list of the 9 best herbal teas with their healing properties.
Health Benefits of 9 Best Herbal Tea
Traditionally, herbal blends are being used as medicine for more than thousands of years in different parts of the South-Asian regions due to the countless healing properties of herbal teas. But now the modern science has started to recognize the medicinal values of herbal teas. (1, 2)
Peppermint Tea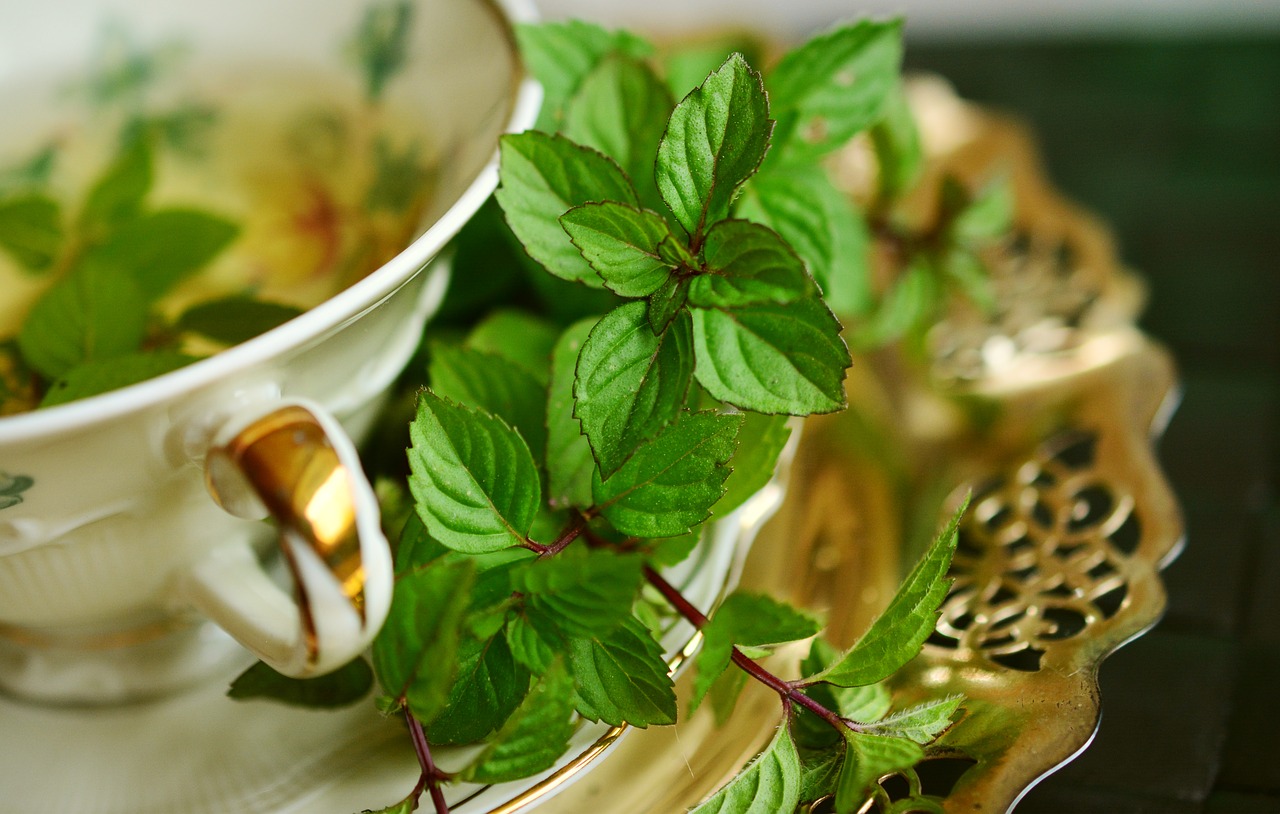 The Peppermint plant belongs to the mint family and it doesn't contain caffeine. It is the most used herbal tea across the world.
In ayurvedic and traditional medicine peppermint tea has been widely used to cure indigestion and digestive tract disorders. In addition to these, it has other medicinal uses due to its antioxidants, antibacterial and anticancer properties. (2)
The study of peppermint about human health is limited however some of the studies claim that peppermint extracts can help in relieving indigestion, stomach pain, and nausea. (3, 4, 5)
In addition to these, peppermint has a calming effect on the human body and its consumption can help in relieving headaches, improving sleep quality, and reducing menstrual cramps. (6)
Chamomile Tea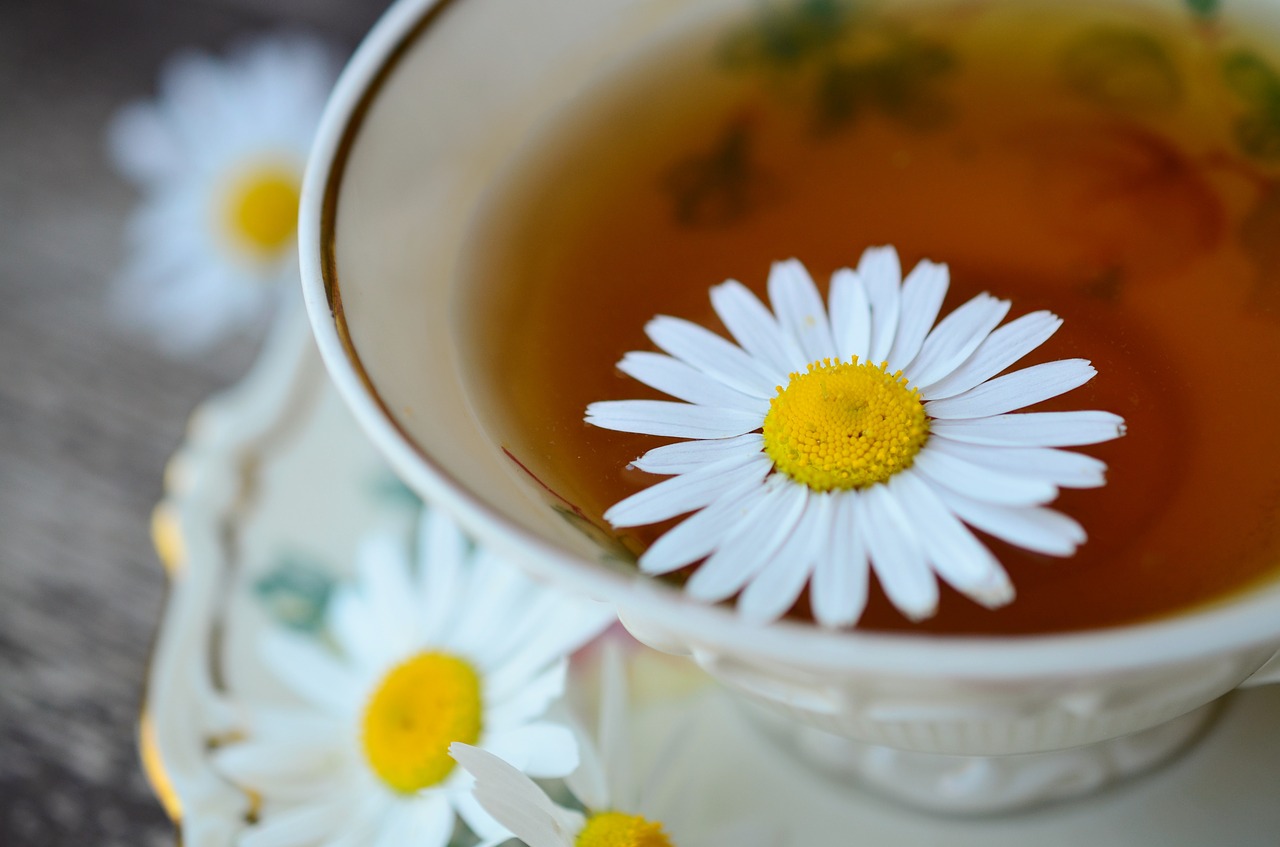 Chamomile tea has calming effects which make it one of the most popular herbal teas across the world. For centuries it has been used to treat upset stomachs, diarrhea, insomnia, and anxiety disorders. (7)
Several studies have been conducted to understand the role of chamomile teas in relieving insomnia and the result was very encouraging. The studies conducted on postpartum women show that chamomile tea was efficient in relieving depression and improving sleep quality. (8)
In one of the studies, drinking chamomile tea helps in reducing the intensity of premenstrual symptoms (PMS). (8)
Apart from the effectiveness of chamomile tea in relieving insomnia and depression it also has calming properties, anti-inflammatory, anti-bacterial, and anti-cancer properties. (2)
Lemon Balm Tea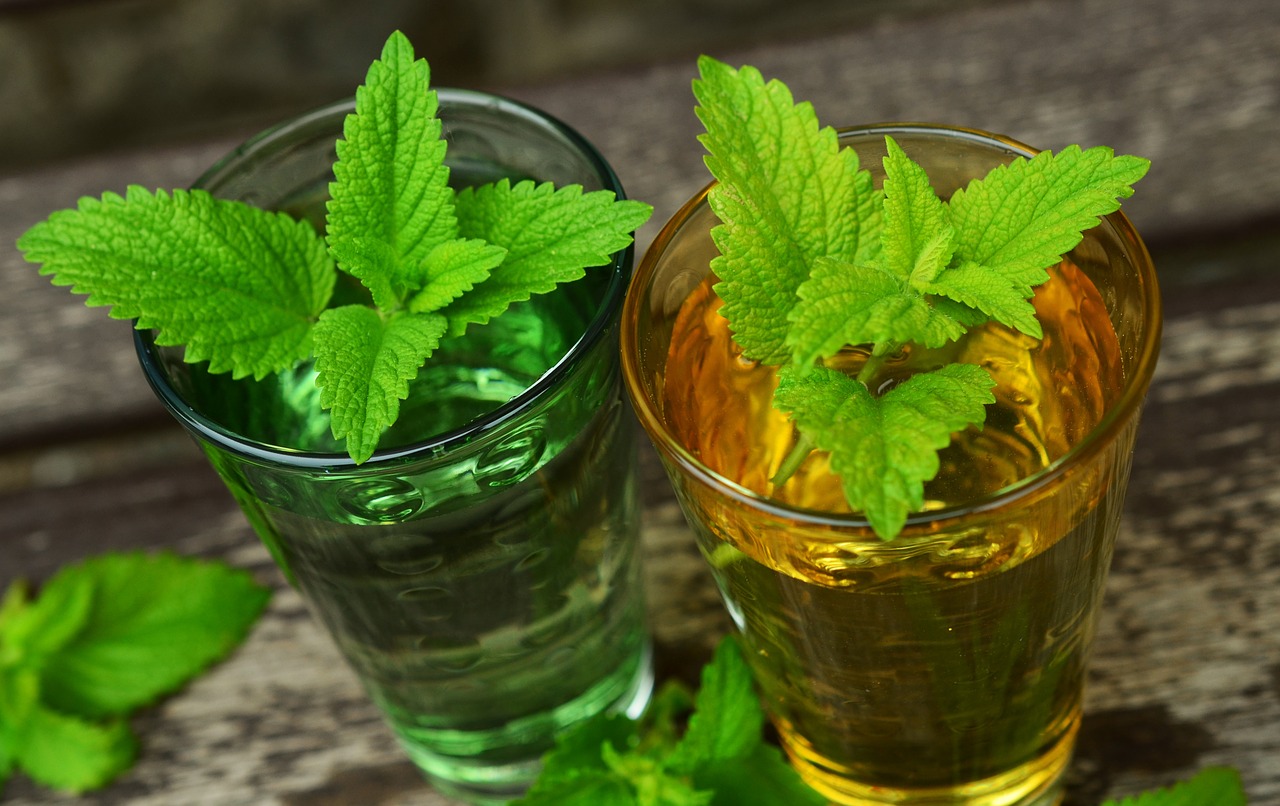 In traditional medicine, lemon balm has been used to treat anxiety and sleep disorders which is also having strong modern medicine back up. (7)
The Lemon Balm tea has a light lemony flavor with incredible medicinal properties. Some of the studies have also found evidence of those miraculous claims. (2)
Arteries stiffness is one of the major causes of vascular diseases mental disorders. A study conducted over a small group has found out that the use of lemon balm tea may help in relaxing the arteries improves their elasticity. Drinking tea may lower high blood pressure. (9)
In addition to the stiffness of arteries, several studies revealed that drinking lemon balm tea may help in improving mood, memory, and calmness, relieving anxiety and heart palpitations. (10, 11, 12)
Ginger Tea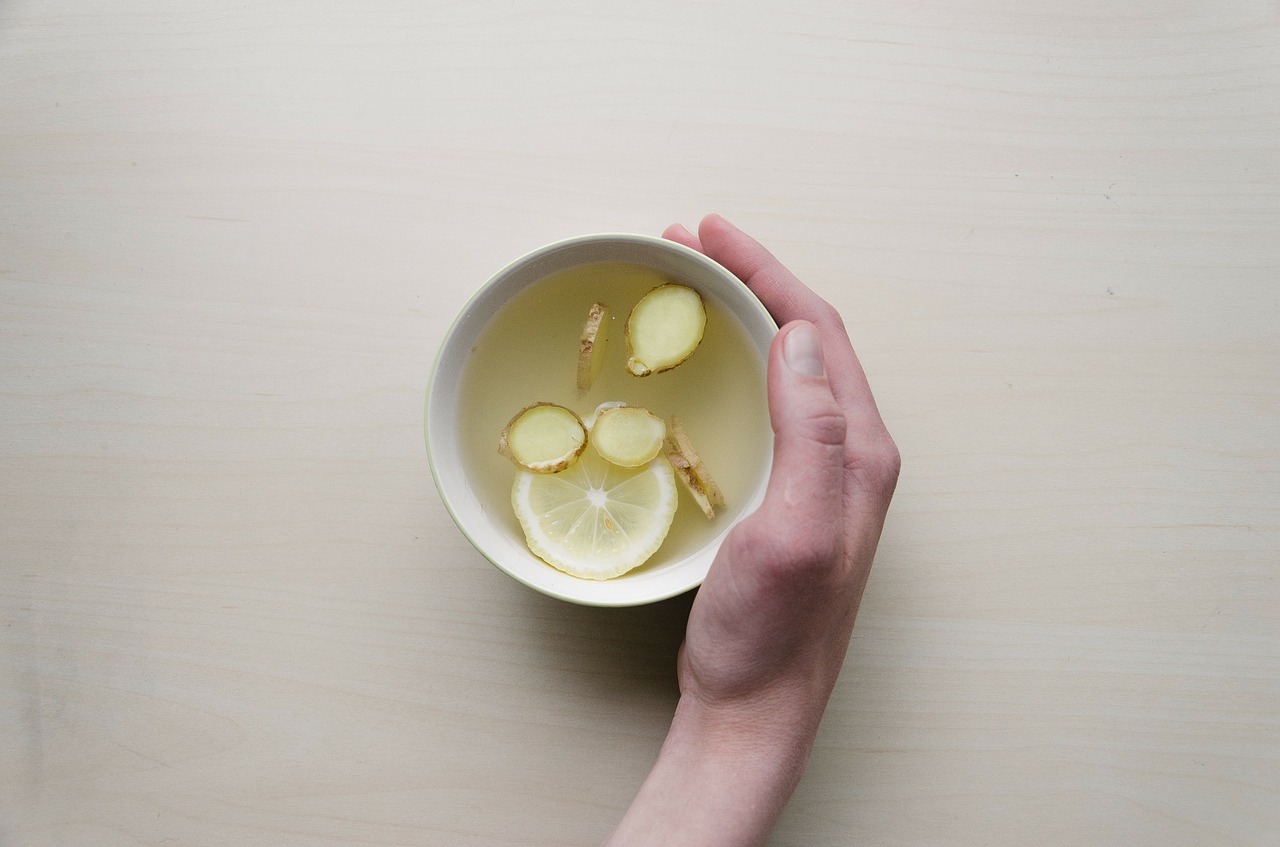 Ginger root is a popular spice with a very rich flavor and multi-purpose uses. It is loaded with various health-benefiting properties and disease-fighting antioxidants. (13)
Traditionally ginger plant has been used to treat nausea, morning sickness, and upset stomach, and however, its consumption can also help in relieving arthritis and premenstrual pain (period pain) and to fight cold and flu. (7)
The anti-inflammatory properties reduce inflammation and at the same time improves the immune system of the body. Ginger tea is considered one of the best herbal teas for immune health.
Studies have found out that ginger intake helps in relieving nausea caused by early pregnancy and by the treatment of cancer. However, pregnant women should consult a doctor before taking ginger as it may cause miscarriages. (14, 15)
Some of the research claims that fresh ginger tea helps in preventing stomach ulcers and relieving indigestion and constipation. (16)
Hibiscus Tea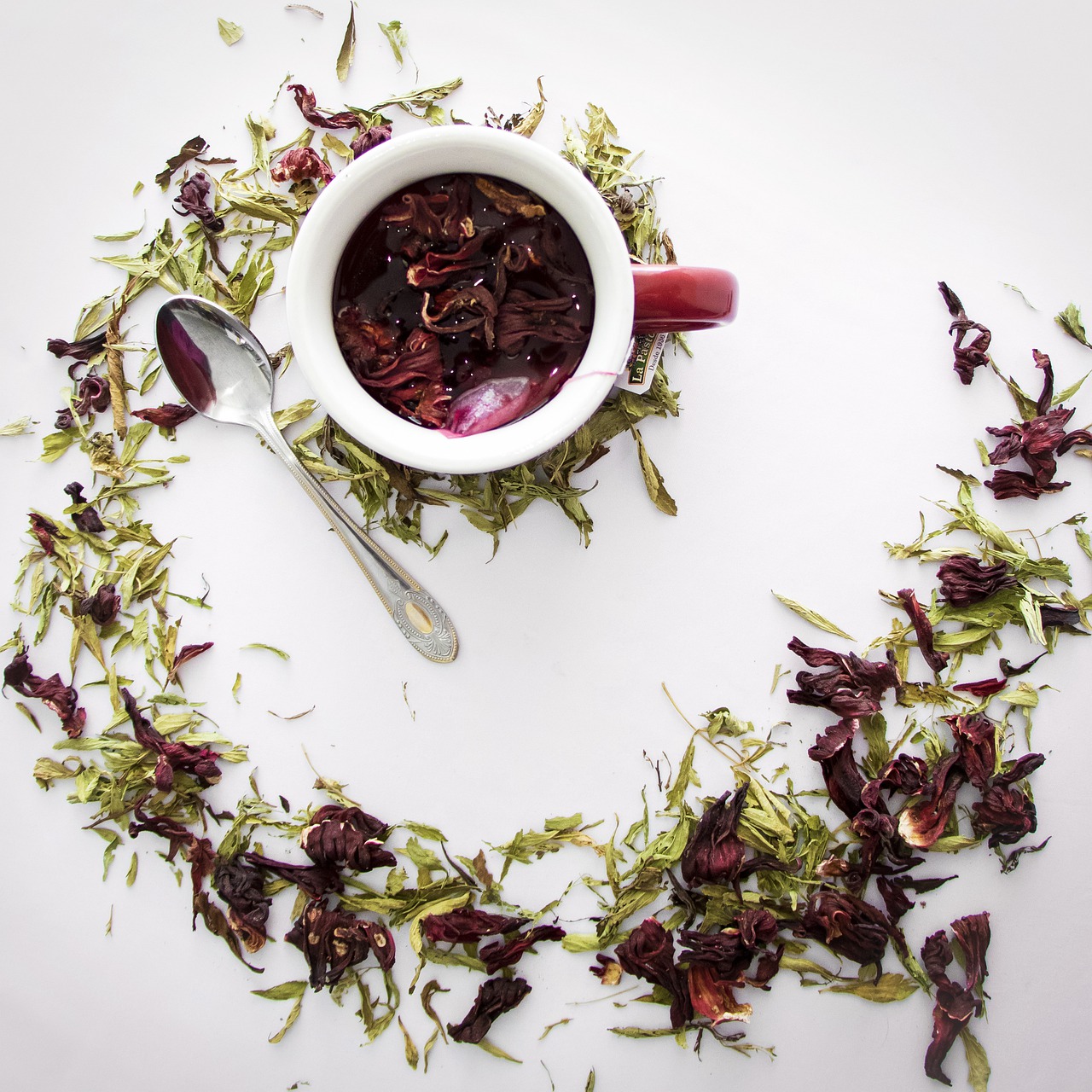 The origin of hibiscus tea can be traced back to ancient Egypt. It is a red brew prepared from the hibiscus plant. This tea is pink-red and has a refreshing tart flavor. (7, 2)
Apart from being a flavorful tea, it has other medicinal properties. Some have modern science back up while other claims are rejected.
Several studies have been carried out to ensure the effectiveness of hibiscus extract on high blood sugar levels. Some of the studies found it effective while other studies found it ineffective. (17)
Several studies related to the effectiveness of hibiscus tea on high blood pressure found it effective however more quality work needs to be carried to generalize its uses in normalizing high blood pressure. (18, 19)
Hibiscus herbal tea is full of antioxidants that help in reducing oxidative stress. Some of the studies also validated the effectiveness of hibiscus tea in removing oxidative toxins. (20)
Rose Hip Tea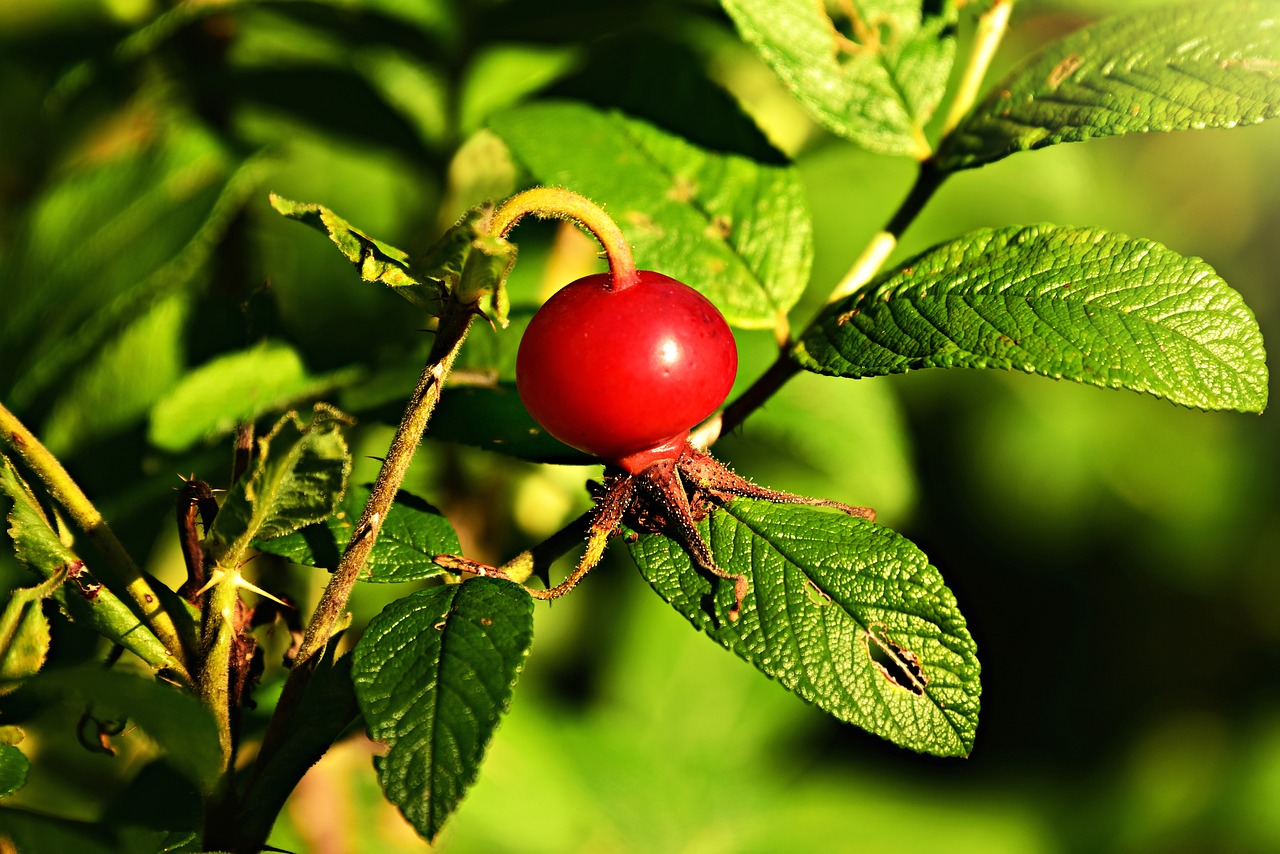 This herbal is prepared with the fruit/seedpod of the rose plant. Rosehip is rich in vitamin C, antioxidants, and anti-inflammatory compounds. (2, 7)
Researchers suggested the effectiveness of rosehip tea in reducing inflammation among people with rheumatoid arthritis and osteoarthritis. It was also observed that it is effective in reducing the pain associated with inflammation. (21, 22, 23)
Apart from the antioxidant and anti-inflammatory properties, the rosehip can be very much effective in reducing BMI and belly fat. It also helps in reducing the aging effect on the skin. (24, 25)
Passionflower Tea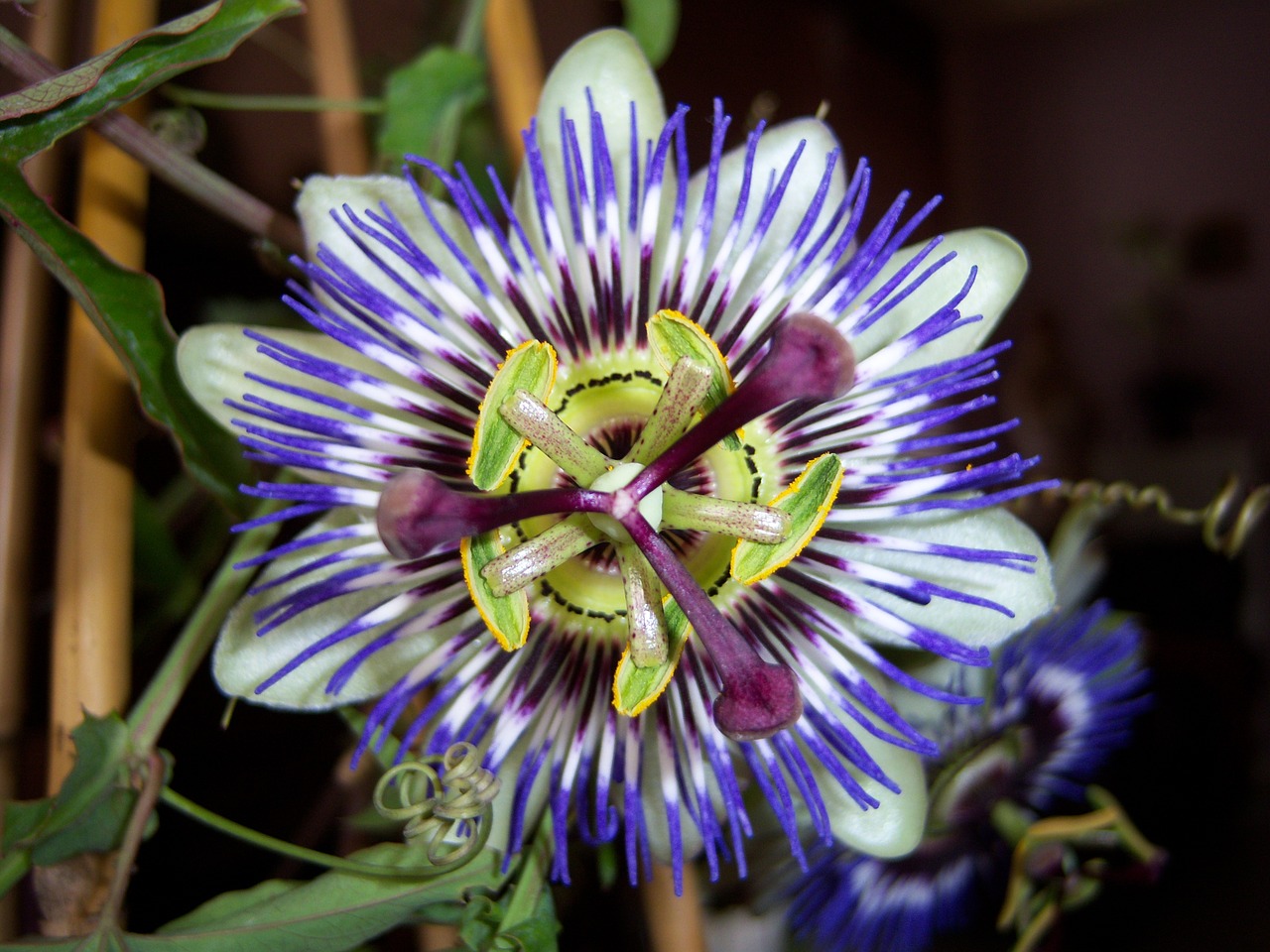 This herbal tea is prepared from the stem and flower of the passionflower plant. It is usually used to reduce anxiety, improve sleep quality and calmness. (2, 7, 6)
Some of the benefits of passionflower herbal tea may also be supported by modern science research studies.
In one of the studies, it is found that the consumption of passionflower tea significantly improves sleep quality. (26, 27)
Several studies were carried out to understand the effectiveness of passionflower herbal tea in reducing anxiety and the risk of heart disease. The result shows that the consumption of herbal tea may be as effective as medicines in reducing anxiety. (28)
Passionflower tea, in general, have a soothing effect on human and can be considered as right choice achieve calmness.
Sage Tea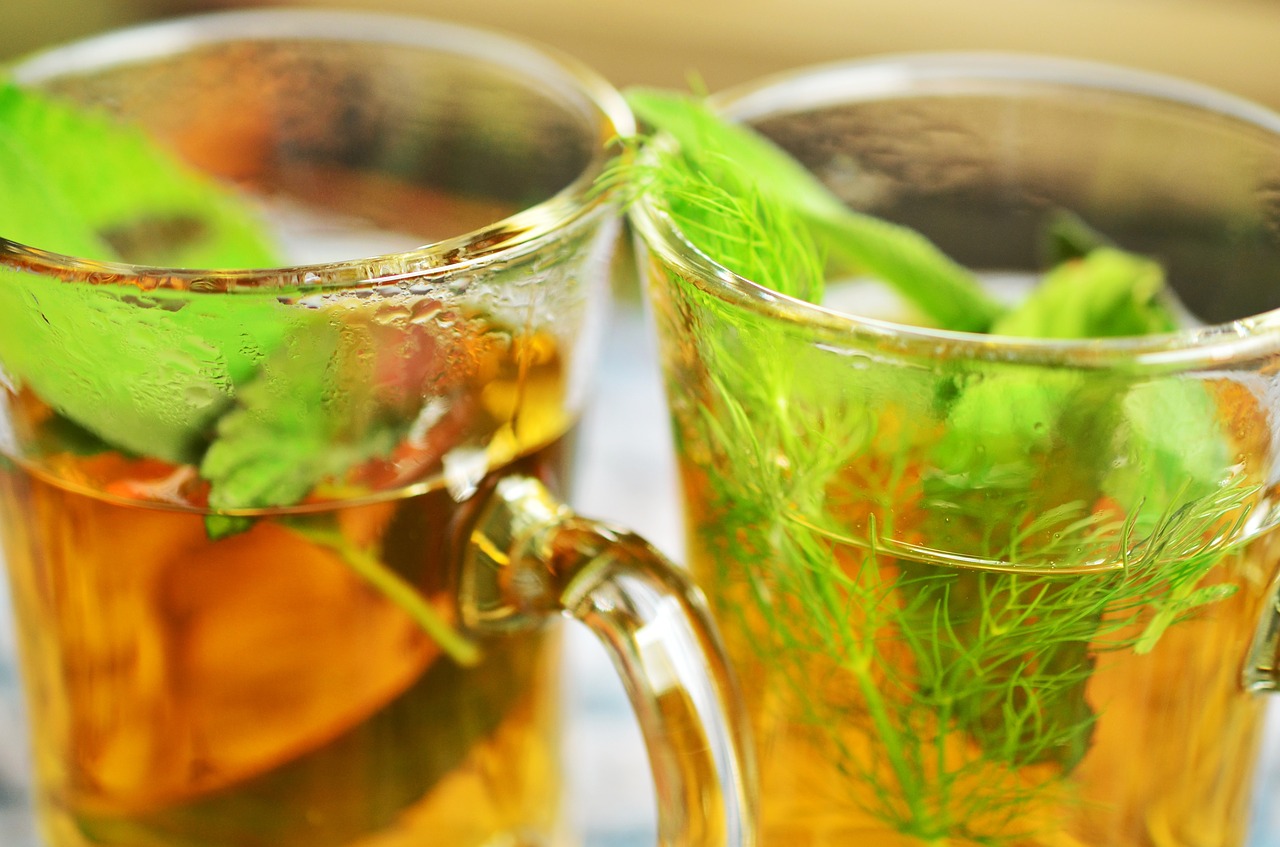 Sage tea is prepared from the leaf of the sage plant and has been in use to address health conditions like stomach problems, depression, sore throats, and memory loss. (2, 7, 6)
Various studies support the healthful properties of herbal teas especially towards improving cognitive function. (2)
In a few of the studies it is found out oral sage drops, or sage extracts helps in improving the cognitive function in people with Alzheimer's diseases. This tea may also have a positive impact on healthy adults in improving cognitive functions. (29, 30)
Some of the studies on healthy adults show that the consumption of sage extracts helps in improving mood, memory loss, mental functions, and brain health. (29, 31)
This tea is considered a calming beverage free of caffeine.
Turmeric Tea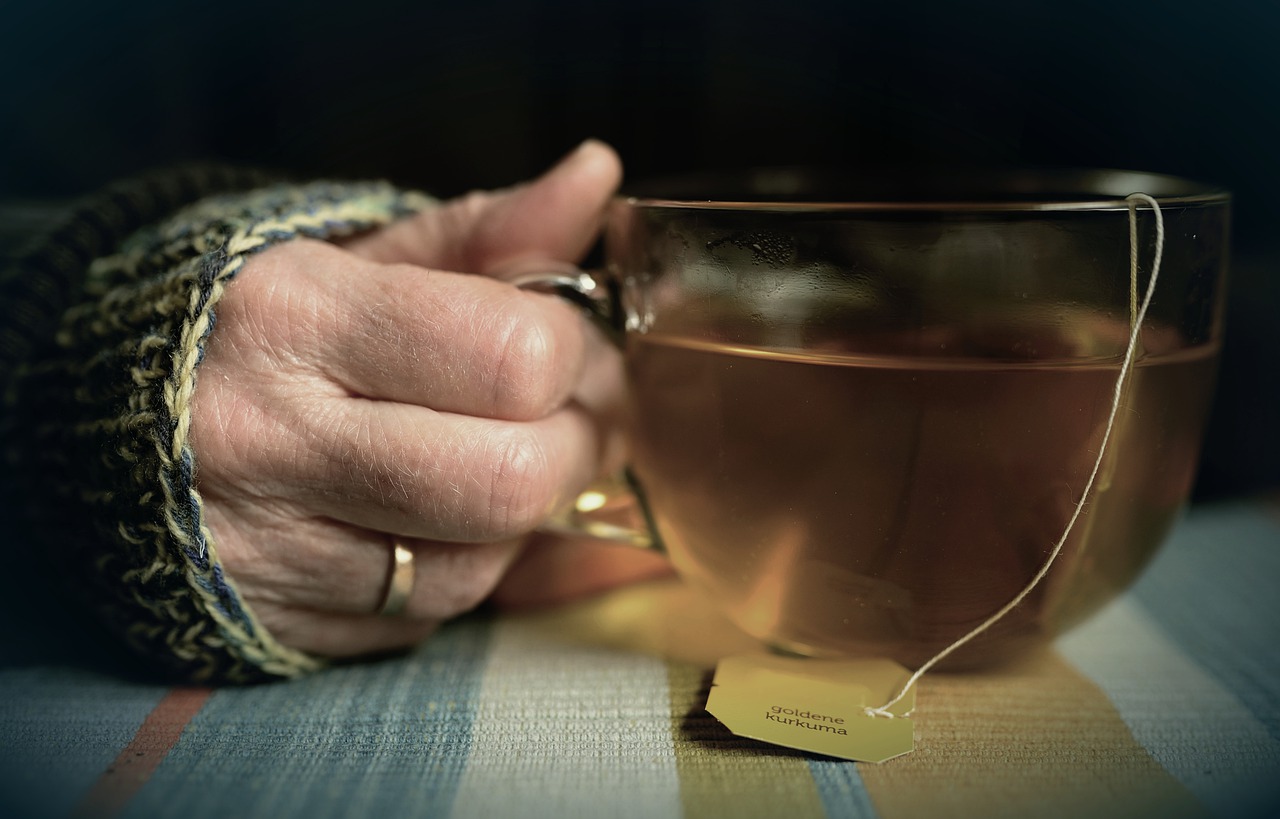 Turmeric tea is prepared from the roots of the turmeric plant which belongs to the Zingiberaceae or ginger family. This is native to South-East Asia. Traditionally it has been used as an herbal remedy in Ayurvedic and Chinese medicine for thousands of years. (7, 34)
The compound curcumin present in turmeric has several health benefits. This compound helps in reducing the chance of neurodegenerative conditions. The antioxidant and anti-inflammatory properties help in reducing the cell damage, inflammation, and other condition associated with these. (35)
In addition to the above, turmeric also helps in reducing symptoms of arthritis, boost immunity, reduces heart disease risks, and managing irritable bowel syndrome. (34)
What are the herbal teas for weight loss?
It may sound very surprising however some herbal tea is very effective in weight loss. Here are some of the herbal tea for weight loss.
Green Tea

Hibiscus Tea

Chamomile Tea

Peppermint Tea

Oolong Tea

Valerian Tea

Lemon Tea

Rooibos Tea

Pu-erh Tea

Fruit Teas
What are herbal tea ingredients?
The method of preparation of herbal teas varies with people and their locality. Since the chief ingredients are local herbs, herbal teas have a wide range of ingredients catering to the needs of every individual. Here is the list of some popular herbal tea ingredients it includes herbs, spices, and other plant materials. 
Ginseng

Peppermint

Lemongrass

black pepper 

Ginger

Rooibos

Oolong

Elderberries 

cinnamon, 

cardamom, 

Orange zest

Liquorice root

Rose Petal

Rosehips

Coffee blossom

Mallow blossoms
What are the popular herbal tea brands?
Herbal teas are well-accepted beverages across the globe and it is offered by some very prestigious organizations. Some of the very popular herbal tea brands are listed below:
Twinings

Lipton

Numi

Traditional Medicinals

TWG Tea

Tea Forte

Taylors of Harrogate

Smith Teamaker Meadow Blend No. 67 Herbal Tea

Bigelow
These popular brands sell easy-to-use tea bags. With the availability of tea bags, making herbal teas have become very easy.
Summary
Herbal teas can be found in a variety of combinations with various flavonoids and colors. Drinking tea can improve the mental and physical well-being of individuals. Every tea has its specific health benefits, where some are supported by medical research while others need more studies. It's prudent to use these herbal teas to improve the health conditions however if you do have any pre-existing medical conditions, it is wise to ask a medical professional before including them in your routine. As some of the compounds may reduce the impact of medications. "Stay Healthy, Stay Happy".