Malnourishment is a worrying problem for elderly people, which can bring about grave medical conditions. It's important to be vigilant for the signs of malnutrition in seniors, as it can have serious health implications if left untreated. Signs of malnutrition in seniors to watch for include an inadequate diet, changes in weight, fatigue, difficulty eating certain foods and nutrient deficiencies. Poor diet is often at the root cause of many cases of senior malnutrition; however there are other factors such as decreased appetite or trouble chewing/swallowing food which can contribute too. Knowing how to combat this problem through healthy dietary choices and understanding what nutrients seniors may be lacking will help keep them safe and well-nourished.
Poor Diet as a Cause of Malnutrition in Seniors
Poor diet is a major contributor to malnutrition in seniors. A heightened vulnerability to illness and contagion may be the result of an inadequate consumption of key vitamins and minerals, too few calories or a surplus of fat or sugar. Poor diets are often characterized by an inadequate intake of essential vitamins and minerals, as well as too few calories or too much fat or sugar. Seniors with poor diets may be more prone to developing chronic illnesses, including cardiovascular disease, stroke, diabetes, osteoporosis and cancer.
A poor diet consists of items low in nutritional value and high in unhealthy fats, sugars and salt. These foods provide minimal nourishment while also raising the risk for illnesses such as type 2 diabetes and hypertension related to obesity. Common examples include fast food dishes brimming with saturated fat; processed snacks like chips or candy; sugary beverages; fried victuals; white breads; refined grains like polished rice; prepared meats such as hot dogs or bacon which have been treated chemically/processed; pre-packaged meals laden with preservatives or artificial flavors/colors; packaged desserts loaded up with trans fats (e.g., cakes); canned soups enhanced sodium content, etc. In short, such dietary habits are directly linked to our health.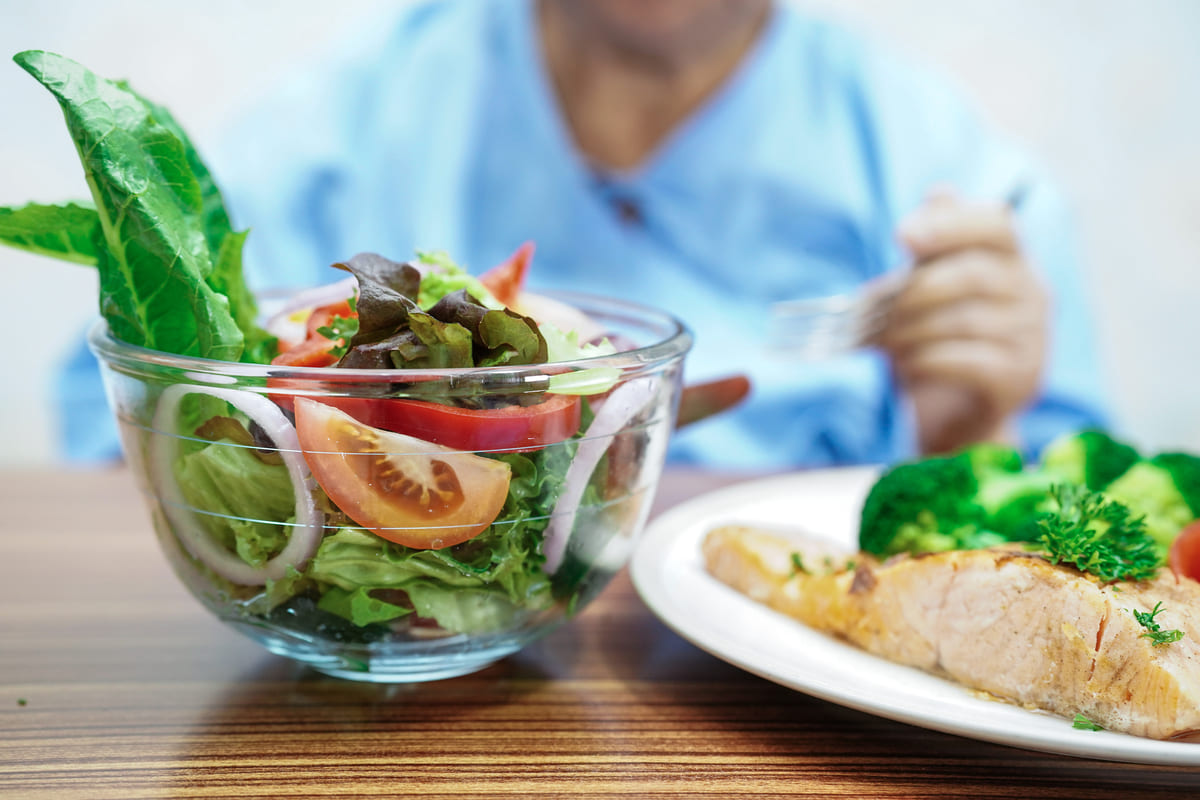 Seniors who consume inadequate nutrition have been linked to developing a range of medical conditions, including CVD, T2DM, breast cancer, Alzheimer's Disease and depression. Poor diets also sap energy levels, reducing the quality of life and leading to fatigue. Protein deficiency results in decreased muscle mass, making it harder for seniors to perform daily activities independently. Additionally, people on poorer dietary patterns tend not to increase their activity level which leads to physical deconditioning and reduced mobility – increasing the risk of falls and fractures. Finally, those with worse dietary habits may suffer cognitive decline at an earlier age than those with better eating habits; thus affecting memory power and the ability to think clearly.
Vitamins B6 and B12, along with folate, are commonly found deficient in seniors' diets due mainly to not eating enough fruits and vegetables as well as whole grains, resulting in a deficiency of these important nutrients needed for proper functioning of body organs. Calcium and vitamin D deficiencies can occur if dairy products aren't consumed regularly, leading to weak bones that fracture easily even during minor accidents. Iron deficiency is common among the elderly population since red meat isn't usually included regularly in their meal plans; this reduces the oxygen-carrying capacity of blood cells thus making them feel tired all the time accompanied by shortness of breath during exercise. Additionally, zinc deficiency occurs when there isn't enough seafood present within the meal plan which further reduces immunity power hence leaving them vulnerable against infections caused by viruses or bacteria.
Poor diet is a major cause of malnutrition in seniors. Consuming an inadequate diet can result in grave medical problems, including a heightened chance of developing long-term illnesses and cognitive impairment. A poor diet can be identified as one that does not provide the essential nutrients for good health and well-being, such as those found in fruits, vegetables, and protein sources. This type of eating pattern often includes processed foods high in sugar, fat, and salt; little to no fruits or vegetables; and limited sources of protein.
Seniors who consume a poor diet are at risk of developing various health issues, including weakened immune systems, impaired vision, muscle weakness, fatigue, reduced mental acuity, anemia (low iron levels), osteoporosis (loss of bone density), depression/anxiety disorders and digestive problems such as constipation or diarrhea; in addition to more severe long-term conditions like cardiovascular disease (heart attack/stroke) or diabetes mellitus (high blood sugar).
Caretakers and family members should be vigilant in identifying the signs of malnutrition in seniors, so that timely nutritional and medical care can be provided. By recognizing these signs early on, we can ensure that seniors receive proper nutrition and care.
Key Takeaway: Seniors with inadequate nutrition can be prone to health issues such as heart disease, stroke, diabetes and cancer. Poor dietary habits are characterized by inadequate intake of essential vitamins and minerals; too few calories or too much fat/sugar; lack of fruits/vegetables; dairy products etc., leading to deficiencies in B6 & B12 vitamins, folate calcium & vitamin D iron & zinc—which ultimately sap energy levels resulting in fatigue coupled with cognitive decline.
Signs of Malnutrition in the Elderly
Malnutrition in seniors is a serious health concern that can have devastating consequences if not addressed. It's important to be aware of the signs and symptoms of malnutrition so that it can be caught early and treated effectively.
Physical Symptoms of Malnutrition in Seniors
The physical symptoms of malnutrition are often the most obvious indicators, though they may also be attributed to other medical conditions or simply aging. Physical manifestations of malnutrition in seniors may include weight loss, exhaustion, feeble muscles, subpar skin quality (e.g., dryness and thinning), fragile nails, hair dropping out, weakened immunity due to vitamin/mineral deficiency, anemia resulting from iron scarcity and retarded wound mending.
Cognitive Symptoms of Malnutrition in Seniors
Cognitive symptoms such as confusion or memory problems are less common but still possible indications of malnutrition. If these cognitive issues become severe enough it could lead to dementia-like behavior including difficulty speaking or understanding language. Other cognitive changes like depression or anxiety can also occur when someone is malnourished for a long period of time.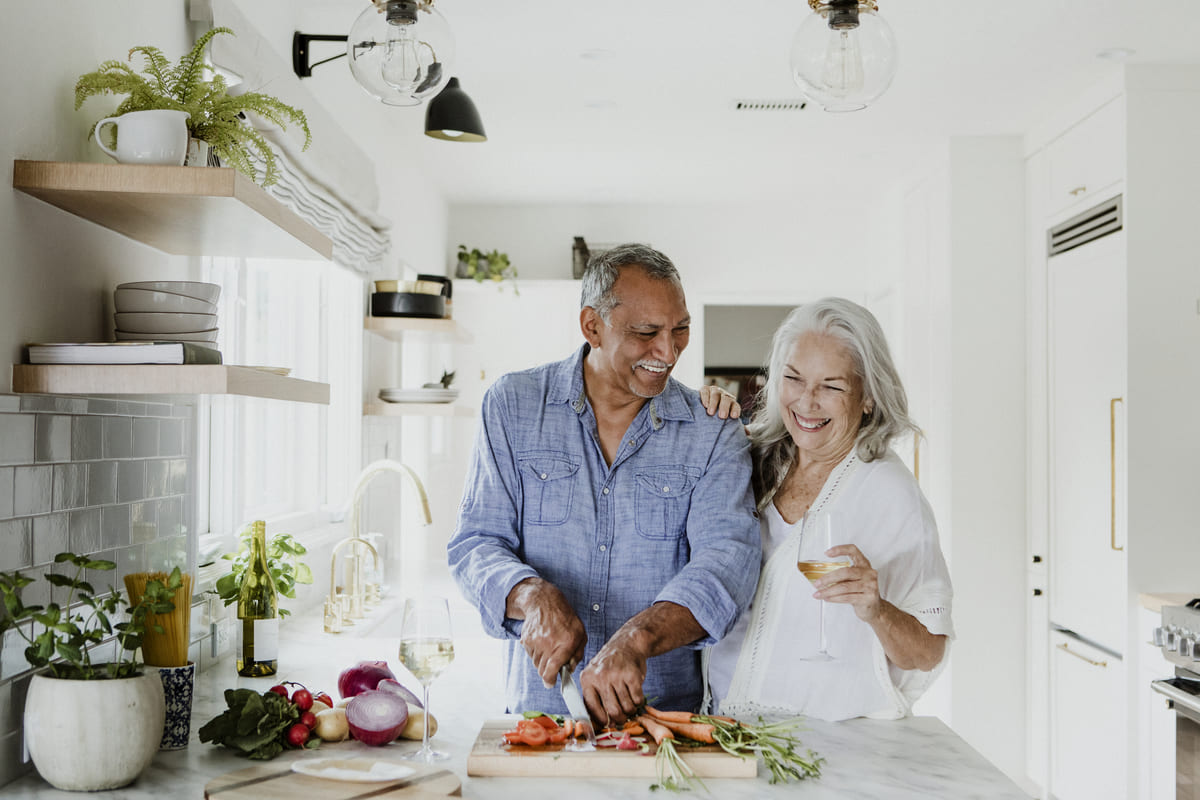 Behavioral Symptoms of Malnutrition in Seniors
Behavioral symptoms related to malnutrition may include irritability, aggression towards others, apathy towards activities they once enjoyed doing and withdrawal from social situations due to feeling overwhelmed by them. Additionally there may be an increased risk for falls due reduced energy levels caused by nutrient deficiencies which could lead further complications such as fractures or head injuries if left untreated for too long.
Awareness of signs and indications of malnutrition in the elderly is vital, as it can drastically affect their general well-being. By making small changes such as improving diet quality and variety or adding nutritional supplements, we can help combat malnutrition in seniors.
Key Takeaway: Malnutrition in seniors is a serious health concern that can have devastating consequences if not addressed. Signs of malnutrition in elderly people, like quick weight reduction, exhaustion, mental confusion or memory issues and crankiness should be noted to identify any problems earlier on before they worsen.
Combating Malnutrition in the Elderly
Seniors are particularly vulnerable to malnutrition, which can have severe physical and mental health consequences. Improving senior diet quality and variety is key to combating malnutrition, as seniors need more than just the standard American diet. Eating healthy foods that are easy to eat and digest for seniors, as well as taking nutritional supplements, can help combat malnutrition in this population.
When it comes to improving senior diet quality and variety, it's important to focus on nutrient-dense foods such as lean proteins, fruits, vegetables, whole grains, nuts and seeds. These types of food provide essential vitamins and minerals that may be lacking in a typical American diet. Staying hydrated is key for older adults; not drinking enough can lead to nutrient deficiencies. Additionally, adding herbs or spices like turmeric or ginger can add flavor without added sugar or salt which can be beneficial for those with high blood pressure or other chronic conditions related to aging.
Especially for seniors with mobility issues, frequent trips to the grocery store for fresh food can be a complicated, difficult prospect. Thankfully, there are a variety of meal delivery services available that bring pre-portioned supplies for meals to your door based on your dietary needs. They can be customized for the number of people in your household and specific medical conditions or dietary restrictions.
For seniors with difficulty chewing, soft-cooked eggs and toast cut into small pieces make a nourishing breakfast alternative to tougher items like steak or pork chops. Homemade pureed soups provide essential nutrients without the need for teeth; applesauce and bananas are more tooth-friendly than crunchier fruits such as apples or pears; while smoothies crafted from frozen fruit can be quickly blended to avoid choking hazards.
Key Takeaway: Seniors can combat malnutrition by eating nutrient-dense foods and taking nutritional supplements. It's also important to ensure adequate hydration, as well as providing softer alternatives for those with difficulty chewing. With some creativity in the kitchen, seniors can enjoy a variety of delicious meals that will keep them healthy and nourished.
Conclusion
It is important to recognize the signs of malnutrition in seniors and take steps to combat it. To ensure good health, seniors should incorporate more nutrient-dense foods into their diets to help prevent malnutrition. While poor nutrition can lead to serious medical issues, there are many simple ways that older adults can improve their diets such as eating more nutrient-rich foods like fruits, vegetables, lean proteins and whole grains. Taking these steps will help ensure your elderly loved one gets all the nutrients they need without having to worry about 5 signs of malnutrition in the elderly.
Identify the signs of malnutrition in your elderly loved ones and take proactive steps to ensure they receive adequate nutrition. Contact a healthcare professional for more information on how to best address this important issue.