Hyderabad City has a vibrant culture which is making it popular over time. We can find various famous food in Hyderabad which has extended its boundary as Best Biryani City. There are also some other famous recipes available like Hyderabadi Biryani, Keema Samosa, Mirchi Ka Salan, Khatti Dahi Vada, etc.
Delicious dishes are an important aspect of Hyderabadi cuisine, which is famous across India with huge food varieties. It is actually quite difficult to find a person who hasn't heard about typical Indian food (Biryani), especially Hyderabadi cuisine.
Famous Hyderabadi Food Items
Happy to share the list of the best Hyderabadi dishes. They are famous and loved by local and national people. Among such food items is the famous Hyderabadi 'Biryani', 'Haleem', 'Dum Gosht'.
Hyderabadi Meat Dish
Hyderabadi Biryani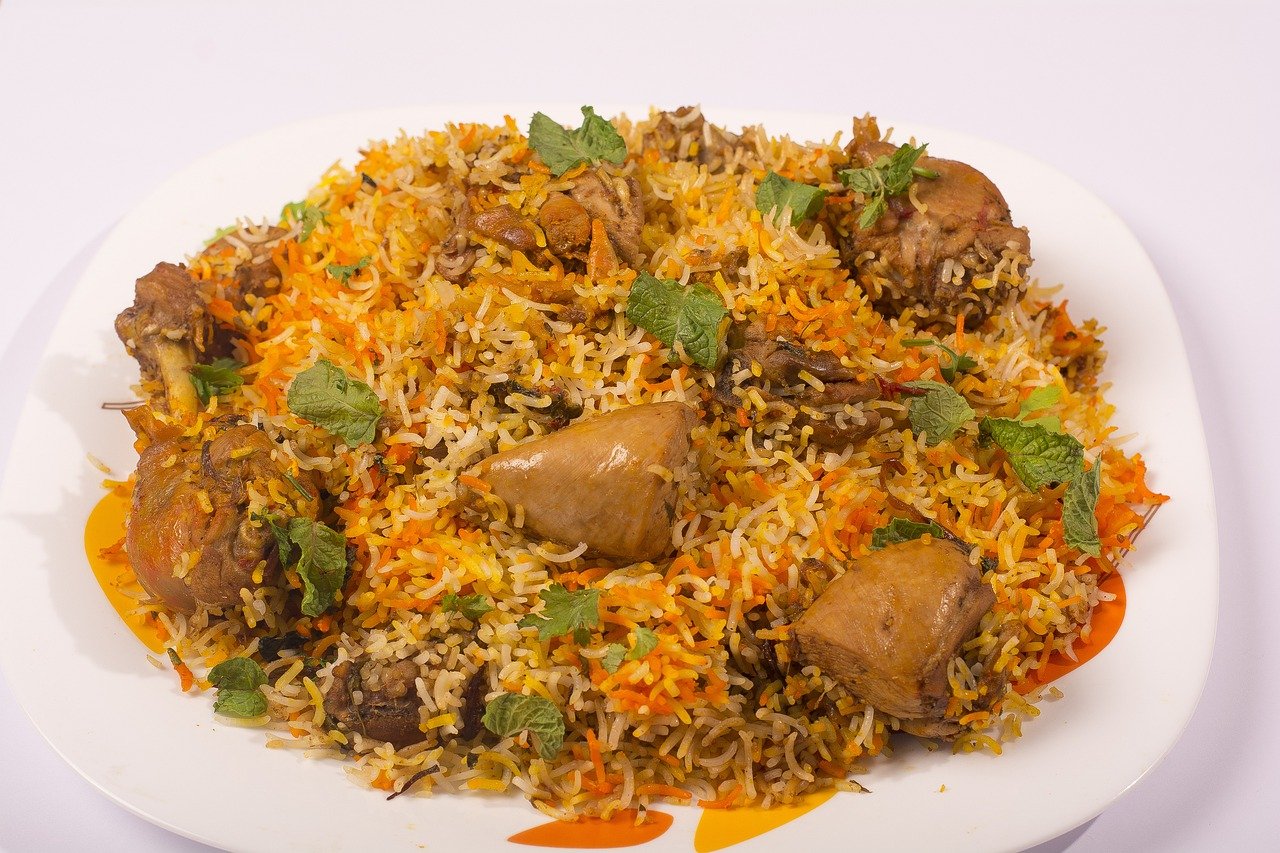 Hyderabadi biryani is a variety of biryani indigenous to the Hyderabad region of Telangana, India. The origin of Hyderabadi Biryanis is traced back to the kitchen of Nizam of Hyderabad, which is the unique blend of Mughal and Iranian cuisines.
This food in Hyderabad is traditionally prepared using Basmati rice, meat, dried fruits (cashew nuts), spices. The dish was developed during the period of the Nizams when East India Company had conquered Hyderabad State in the year 1798.
Steaming soft biryani is well served with Mirchi ka Salan. This delicacy can mesmerize your taste buds with the aroma and richness of Indian spices. There are mainly two types of Hyderabadi Biryani viz: Kachchi Gosht Ki Biryani and Pakki Biryani.
Famous Places to Try In
Paradise
Jewel of the Nizam – The Minar, The Golkonda
Chicha's
Hotel Shadab
Hyderabadi Haleem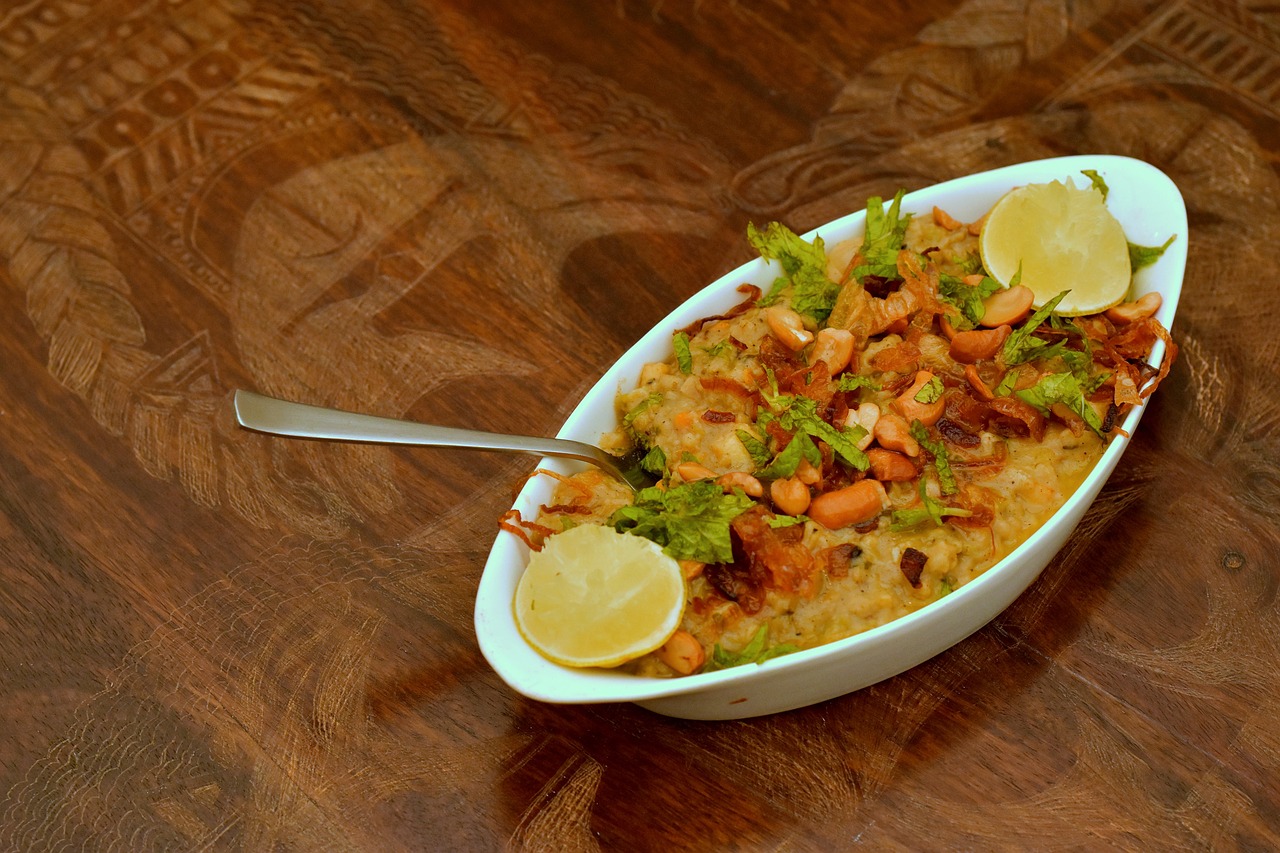 Hyderabadi Haleem is a meat dish of Arabs which is prepared with meat, lentils, and pounded wheat. It was introduced in India during the Nizam period by the Arab diaspora. India is known for its spices, which led to the evolution of Haleem and took its name as Hyderabadi Haleem (since Hyderabad is famous for its spices). This dish has been granted geographical indicator status.
It is served during the holy month of Ramadan. The recipe behind Haleem is simple and the ingredients used are also easily available in the market or at home.
Haleem is a true delicacy of India. The recipe of different variants of Haleem varies even from one city to another.
Best Places to Eat In
Hotel Shadab, High Court Road
Shah Ghouse Cafe & Restaurant, Charminar
Pista House, Charminar
Cafe Bahar, Basheer Bagh
Keema Samosa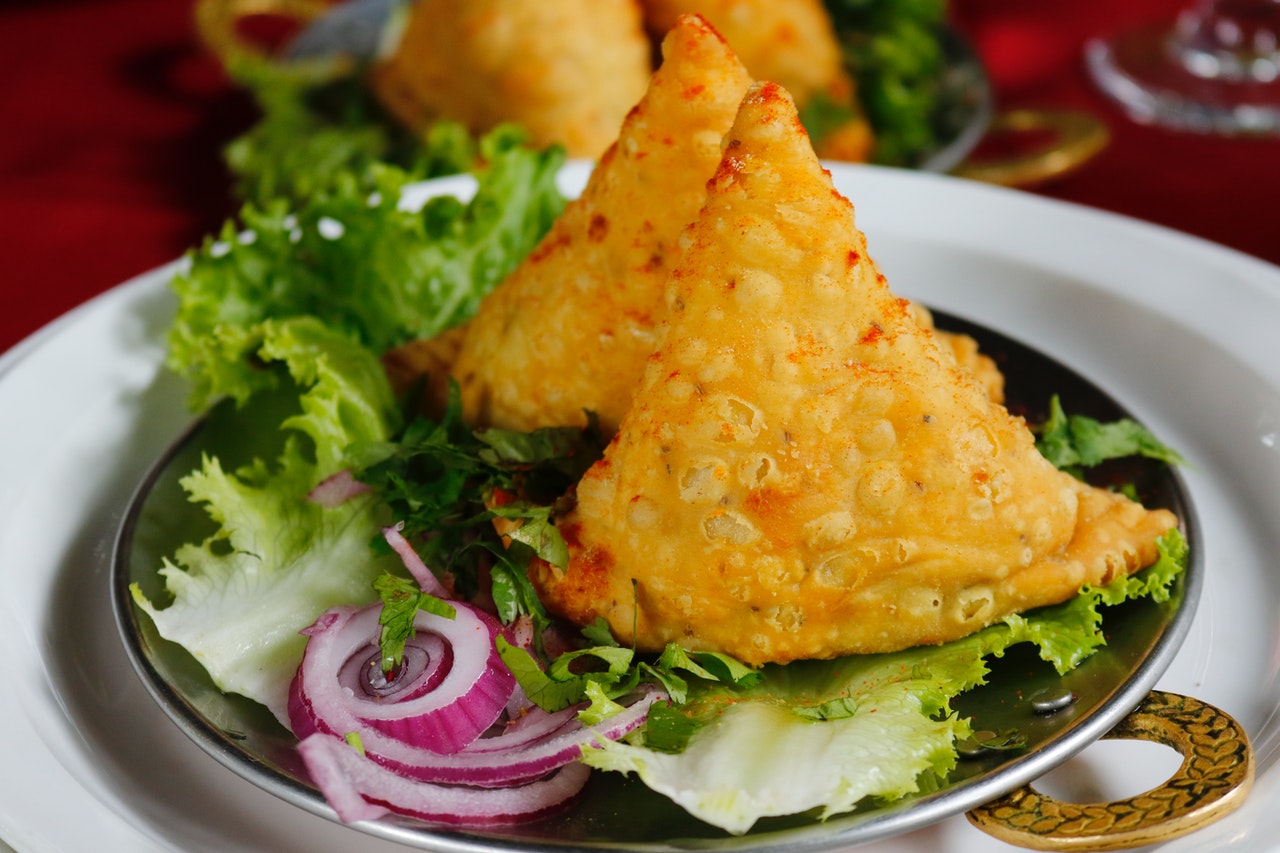 In Indian Samosa and chai is considered very popular snacks however in recent times the recipes of samosa have been evolved by incorporating varieties of filling ingredients such as minced meat. This variation might have been inspired by the very popular Hyderabadi Keema Samosa recipes.
Keema samosa is the most popular evening snack among all types of street food. It is prepared by carefully mixing minced meat with selected spices and cooked and deep-fried in cooking oil or desi ghee.
Deep-fried dishes are generally considered unhealthy but this will be very healthy when it is cooked in desi ghee.
This Hyderabadi snack is well served hot with green chutney and tomato sauce.
Famous Places to Try In
Hotel Shadab
Golkonda Fort stalls
Sahib's Barbeque, Hitech City
Nihari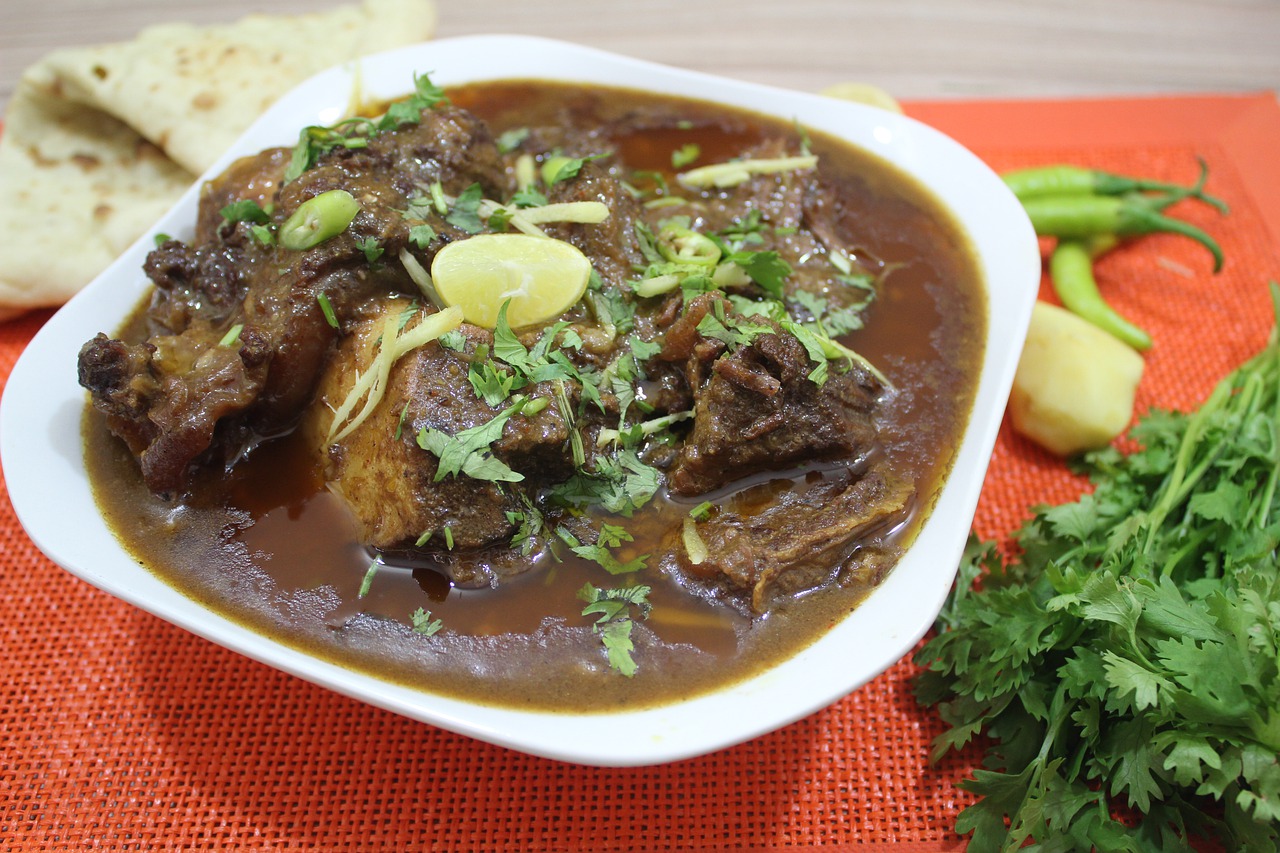 Nihari word comes from the Arabic word which means morning, it was originally served to the Nawabs in the Mughal Empire in the breakfast after morning prayer. It is believed that Nihari originated from the Indian subcontinent and especially either in Old Delhi or Hyderabad.
Nihari is the special meat dish served during Eid. Nihari is distinctive for its rich aroma, thick sauce, and its golden color that comes from the use of Kashmiri saffron.
This traditional dish is prepared overnight with tender mutton and even buried underground overnight to absorb the essence of spices. This slow-cooked dish can impress your taste buds with its rich taste and aroma.
This delicacy is well served with khamiri roti (double roti) or steamed rice. It can be found in every street food joint of Hyderabad.
Famous Places to Try In
Shah Ghouse, Shalibanda
Hotel Nayaab, Charminar
Hotel Shadab, Ghansi Bazaar
Hotel Sitara Grand, Banjara Hills
Boti Kebab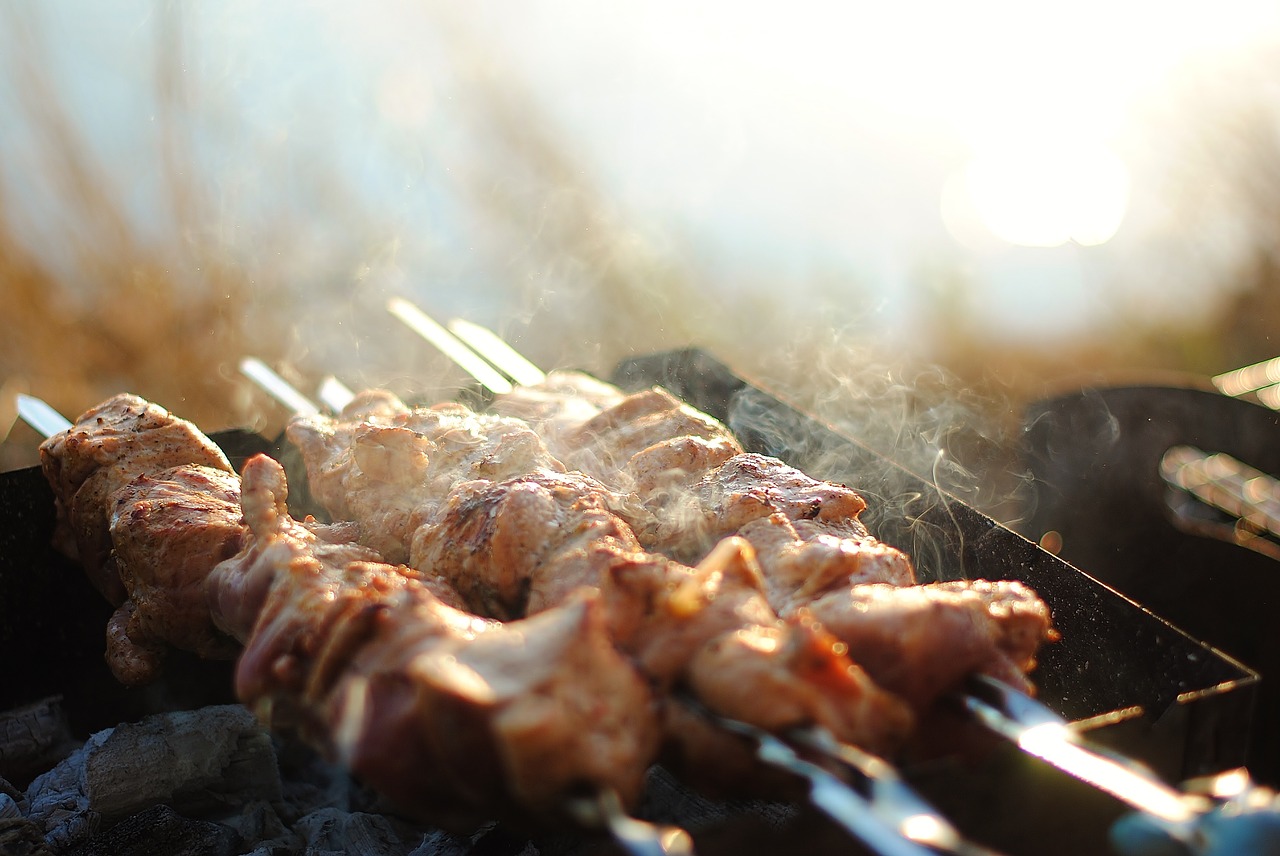 Kebab is a very popular dish across the globe and is prepared with varieties of meat. Its origin traces back to Middle Eastern cuisines and Muslim countries. With many vegetables added as a side dish, kebabs are good options on vegetarian diets too, and easily available in every street food stall in Hyderabad.
Like Tunday Kebab, Boti Kebab has also been originated from Lucknow however it gains more popularity in Hyderabad.
It is a very popular snack dish during parties, functions, and gatherings. It is prepared by cutting meat into small pieces and marinate a mixture of a variety of herbs and spices which gives it a delicious flavor followed by barbeque along with other vegetables.
It is very popular and easy to get Hyderabadi street food.
Famous Places to Try In
Bade Miyan Kababs
Hotel Shadab, Ghansi Bazaar
Siddique Kebab Centre
Bawarchi, Nallakunta
Paya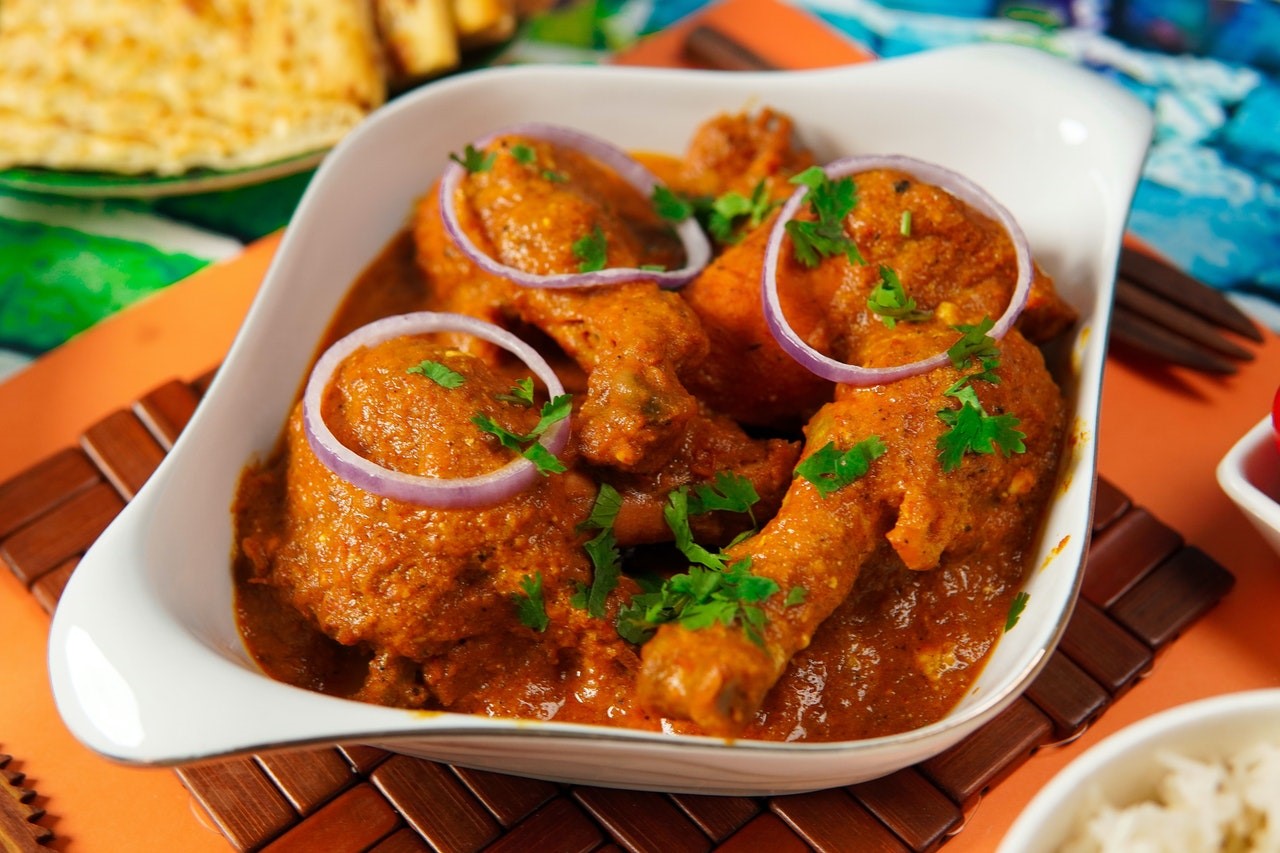 Paya is a very popular dish in Lahore, Lucknow, and Hyderabad. The main ingredient of Paya is beef, lamb, or goat trotters cooked with roasted spices. It is called paya because the cow or goat trotters are used in making this delicacy.
Traditionally it is cooked on mild heat (overnight) however due to time constraints it is prepared in the pressure cooker in contemporary time.
It is served hot with steamed rice and offers a delicious mouth-watering taste in every bite.
Famous Places to Try In
Hotel Shadab
Shah Ghouse Café and Restaurant
Sahib's Barbeque by Ohri's
Pathar Ka Ghost
This dish originates from Hyderabad itself and is considered one of the very popular and classical Hyderabadi street food. Pathar Ka Gosht is the famous lamb dish prepared over the heated stone and spices are added after meat is cooked.
This traditional Hyderabadi recipe has a Smokey flavor that comes from charring the meat over thick stones until the texture of the meat acquires a silky, melt-in-mouth kind of texture.
Pathar Ka Gosht has a considerably rich taste and is usually served with steamed rice and naan bread.
Famous Places to Try In
Bade Miyan Kababs
Azizia Hotel
Chicha's
Jewel of Nizam
Dum Pukht
Dum is a unique cooking method that involves slow cooking food at low temperatures within sealed containers. It is one of the foundations for the centuries-old craft of Pukhtun Cuisine. This method of cooking is also used to prepare Dum Pukht Biryani.
Dum Pukht, a slow-cooked meat recipe has always been a favorite delicacy of mine. The slow cooking process releases juices from the meat and provides enough time for ingredients to absorbs the aroma and flavor of different spices.
Dum Pukht is a highly customized dish prepared on the spot. The main ingredient is meat which can be chicken, mutton, or beef. This dish can be a chicken dish or mutton dish based on ingredients.
Famous Places to Try In
Dum Pukht Begum's
Shahi Dastarkhwan
Chicha's
Jewel of Nizam
Hyderabadi Sweet Dish
Qubani Ka Meetha
Hyderabadis people are proud of the food in Hyderabad. Hyderabad has a lot to boast about. The city is known as the 'Dessert Capital of India' and rightly so. There are several desserts from Hyderabad. Among such delicious desserts is Qubani ka Meetha, a kind of pudding that is made out of dry fruits (dried apricots) dipped in water.
It was during the Nizam era that the first Qubani ka Meetha was prepared and served to Nizam Sikandar Jah, who reigned from 1803 to 1829.
Qubani ka meetha is made from flaky pastry sheets stuffed with a mixture of sweet apricots and almonds, garnished with malai, and baked to perfection.
Famous Places to Try In
Utsav Restaurant, Secunderabad
Parivar Dhaba, Nizamabad
Paradise, Paradise Circle, Secunderabad
Sheer Khurma
Sheer Khurma is made on many festive occasions in Hyderabad like Eid, Bakrid, and Milad-e-Sherif. It is rich and creamy milk flavored with cardamom powder, saffron, and dry fruits (dates, and nuts) on the top.
In the Persian language, the meaning of Sheer Khurma is milk with dates which is indeed the essence of this delicacy served in Hyderabad.
Sheer Khurma is a traditional milk-based sweet, which is most popular in Middle Eastern countries.
Famous Places to Try In
Hotel Shadab,
Hotel Madina, Near Charminar
Meethe Miya
Jauzi Halwa
Jauzi Halwa is a sweet dish for any celebration, be it religious or otherwise. It is a Turkish sweet dish that traveled from Turkey to the heart of the Deccan in the 19th century and became one of the favorite sweet dishes of Nizam Mir Osman Ali Khan Asaf Jah VII.
This sweet dish with its heavenly taste is prepared using sprouted wheat flour as the key ingredient. At Hameedi Confectioners, this masterpiece is prepared with fresh cow's milk and desi ghee to give it a rich and wholesome taste.
Jauzi halwa is loaded with calories and is considered to be a heavy dessert that is served on different occasions. There are two variants of this dish available mainly the original version costs around ₹500/kg while the special variant cost around ₹700/kg.
Famous Places to Try In
Food is something that bonds every family. Food also represents the culture of the region. When we talk about Hyderabad, not only it has famous & delicious food items but also the history behind every dish. Biryani, Haleem, Mirchi Ka Salan, Keema Samosa, and Chat are some of the best-known Hyderabadi dishes.
Persian and Mughal influences along with distinctive local culinary practices are one of the reasons that make Hyderabad cuisine unique. You can begin to understand why the city is known as the food capital of India.
What is the Famous Food of Hyderabad?
There are innumerable Hyderabad food items that are well known as the famous foods of Hyderabad. It is next to impossible to list all these food in Hyderabad but we have tried to list some of the best-selling, delicious, and most popular recipes which are extremely famous among foodies.
If you are visiting Hyderabad you must try the authentic Hyderabadi recipes. Known for its rich, spicy, and succulent food, Hyderabad can make your mouth water with its delicacies.
What are Hyderabad's famous tourist attractions?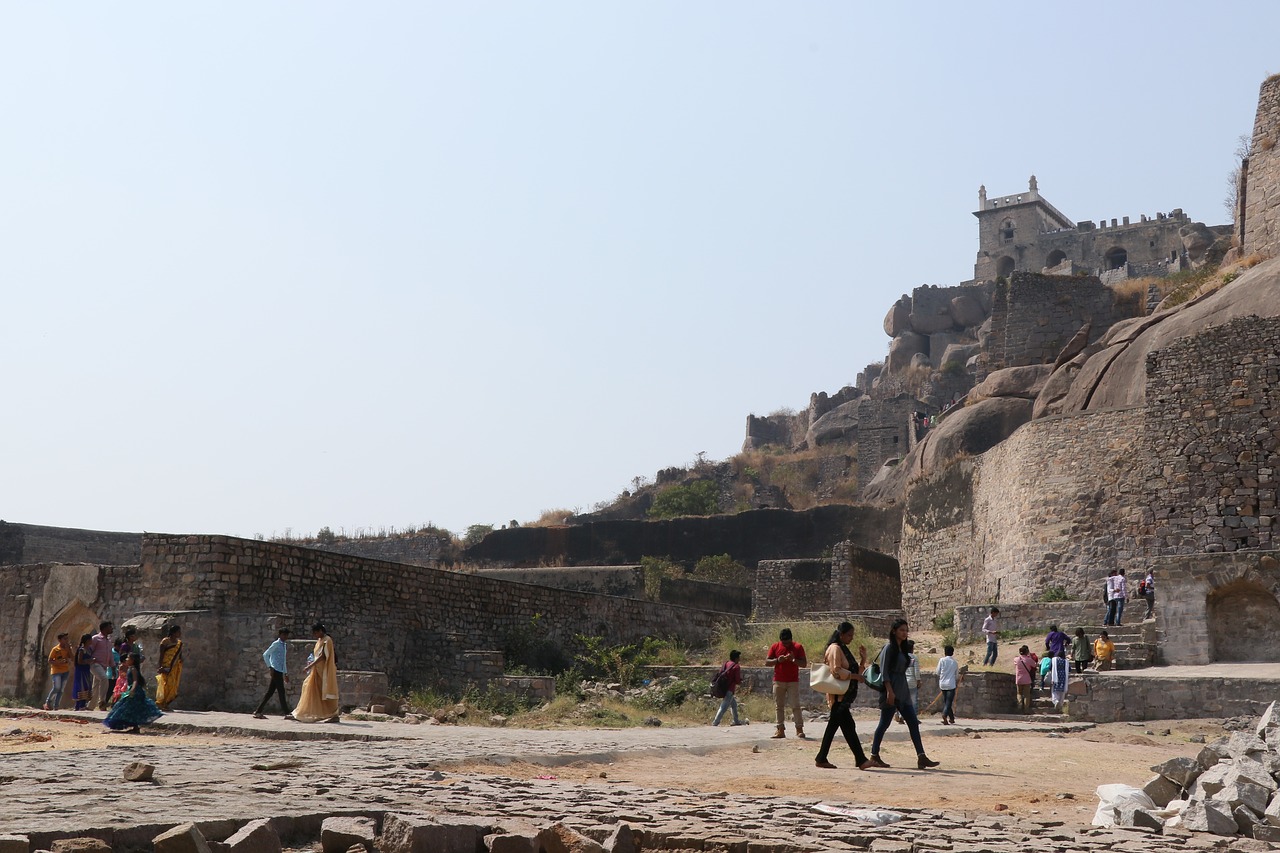 Tourism in Hyderabad is booming and it is expected to grow with the city's rapid development. Hyderabad being one of the fastest-growing cities in India has an exciting travel destination adding a new reason for tourists.
Hyderabad has a rich cultural, historical and political legacy that makes it unique. The city has been ruled by many dynasties in the past which left its cultural heritage intact. The city is famous for various places that are important tourist attractions.
Here're the famous tourist attractions in Hyderabad which are worth visiting.
What are the famous places to eat in Hyderabad?
The city is known for a lot many things including its local flavors, rich culture, and grandeur. But few are aware of the fact that this city is the home to some of the most popular Hyderabadi food joints in India. The city has been serving mouth-watering delicacies for ages now, attracting food lovers from across the country. With food being a big part of the Hyderabadi culture, you are sure to have a great time there when it comes to sampling delicious items.
In almost every part of the city, one can find late-night food joints and eateries that have traditional and authentic Hyderabadi food on the menu.
Paradise
Jewel of the Nizam – The Minar, The Golkonda
Chicha's
Hotel Shadab
Hameedi Confectioner's
Hotel Madina, Near Charminar
Bade Miyan Kababs
Shah Ghouse Café and Restaurant
Nimrah Cafe and Bakery
Bawarchi Restaurant
What is the average cost of Hyderabad Biryani?
The average cost of Hyderabad Biryani range between INR 800 to 1500. There are various places for Biryani in Hyderabad, however, Paradise is most popular for its quality and cheaper rate. The average cost of biryani for two individuals at very popular dining spots run by street vendors.
Famous Places for Biryani

Cost for Two

Biryani at Paradise
₹ 800.00
Jewel of the Nizam – The Minar
₹ 3,000.00
Biryani at Chicha's
₹ 700.00
Hotel Shadab
₹ 550.00
The Spicy Venue
₹ 800.00
Adaa, Taj Falaknuma Palace*
₹ 10,000.00
Taj Mahal Hotel
₹ 650.00
Tulips, Hotel Green Park
₹ 1,500.00
Dum Pukht Begum, ITC Kohenur
₹ 2,500.00
Bawarchi Restaurant
₹ 700.00
*advance bookings required
Facts About Hyderabad
In India, Hyderabad is the capital of Telangana.
The Hyderabad Metropolitan Development Authority and the Greater Hyderabad Municipal Corporation are the city's local governments.
In the state of Telangana, Hyderabad is the largest city.
We are excited to provide you with a list of famous foods in Hyderabad.
Hyderabad's area code starts with the number +91 40.
Hyderabad, though, has some famous historical sites, such as Charminar, Golconda Fort, and Mecca Masjid.
Hyderabad is one of South India's most prominent commercial centers.
The most famous lakes in Hyderabad are Hussain Sagar, Osman Sagar, and Himayat Sagar.
Osmania University is India's seventh-oldest university, situated in Hyderabad, Telangana.
A number of administrative regions, including Amberpet, Asifnagar, Charminar, Golconda, Himayathnagar, Nampally, Shaikpet, comprise Hyderabad.
Hyderabad's postal code starts at 500001.
Hyderabad is known for its delicious biryanis, which come in a wide range of varieties.
The districts of Ranga Reddy, Medchal-Malkajgiri, and Sangareddy are part of Hyderabad.
Hyderabad, India's fourth most populous city, is located on the Musi River.
Facts About Hyderabadi Cuisine
This cuisine is the traditional cooking style of the Hyderabadi People, also known as Deccani cuisine.
Hyderabadi dishes are mainly formed of meat and rice.
The traditional and the most famous of Hyderabad are the Hyderabadi Chicken Dum, Hyderabadi Biryani, Hyderabadi lamb Biryani, Kachche gosht, and many more.
This cuisine has different recipes for different events such as weddings, parties, foods festivals, and travel foods.
Hyderabadi Biryani is a popular dish of Hyderabad.
Best Places To Try The Hyderabad Street Food are Maharaja Chaat Madhapur, Ohri's Chowpatti, Banjara Hills, Momos Point, Habsiguda, Lakshman Ki Bandi, Begum Bazaar, Madhura Nagar.
Place To Visit in Hyderabad